Great Yarmouth is a town on the Norfolk coast, well known for its shimmering waterfront arcades. However, this Las Vegas of East Anglia hides Victorian buildings of extraordinary elegance and tell the birth of mass tourism. In this article, I take you on an unprecedented guided tour along the exciting urban development of Great Yarmouth.
How summer holidays started in the UK
Summer holidays are a fairly modern invention. Until a few centuries ago, no one from the working class would have dreamed of spending their holidays by the sea. Not only they did not like the sea, but also because of the cost and time involved in traveling.
In fact, the coastal towns, for a while, has been frequented just for health purposes by the wealthiest social classes. They moved there with all their servants for a month or more. You can image it like a kind of luxury tourism.
Mass tourism, as we know it today, only developed with the advent of railways heading to the coast. The very same railway tracks which still carries passengers today for a train journey between Norwich and Great Yarmouth.
When the railways began to bring large groups of visitors to the seaside resorts, there was a huge and incredible change in tourism. Two years after the railroad's arrival at Great Yarmouth in 1844, a tourist flow of 80,000 summer vacationers had created. The railway network had also definitively opened the tourist resorts to the working classes. Only from that moment on, they had started enjoying summer holidays.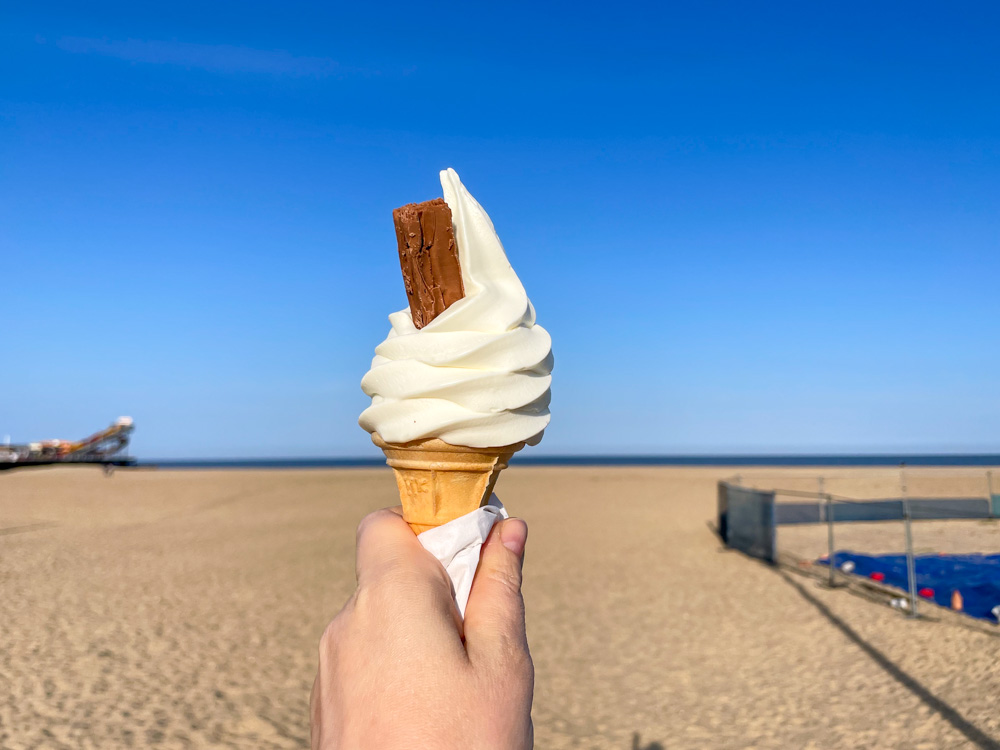 Great Yarmouth: one of the coolest summer destinations in the Victorian era
In 1890 the Daily Telegraph described Great Yarmouth so grandly:
At Yarmouth they do not sit on the sands, they burrow in them; they make caves and holes and habitations for men, women and children.
At Yarmouth they are not content with one pier; they have three, with music, dancing and comic songs from morning until night.
A portion of these glorious sands is reserved for another alfresco concert and at periodic intervals throughout the day harmony prevails to the extreme delight of the lovers of comic and sentimental songs. There never were such sands or such songs as are heard on holiday time down at Yarmouth.
Following this article, the Victorian Great Yarmouth had definitely raised the bar on what to expect from seaside resorts. It was taking its entertainment business damn seriously!
A decade later, in 1903 and 1904, the Hippodrome Circus and the Winter Gardens on the waterfront were respectively inaugurated. Hippodrome Circus, still active today, is Britain's only surviving circus building. Originally it overlooked the waterfront with its terracotta tiled Art Nuveau facade. The Winter Gardens, on the other hand, were brought to Great Yarmouth from Torquay disassembled in pieces and totally rebuilt in. These examples can give you an idea of ​​the grandeur of the destination.
In 1922, the Great Yarmouth Lido was opened, an outdoor unheated saltwater swimming pool used for shows and sporting activities. While 1937 was the year of the inauguration of the Marina Theater. Those were the last years of this kind of posh & chic Great Yarmouth destination.
Indeed, after the WWII, the introduction of paid annual leave allowed many people of the working class to go on vacation for the first time. Consequently, the old glories of theater, music and live music were replaced to campsites and caravan parks, creating a new kind of holiday on the Norfolk coast. Here it is the real start of cheap and family friendly holiday villages.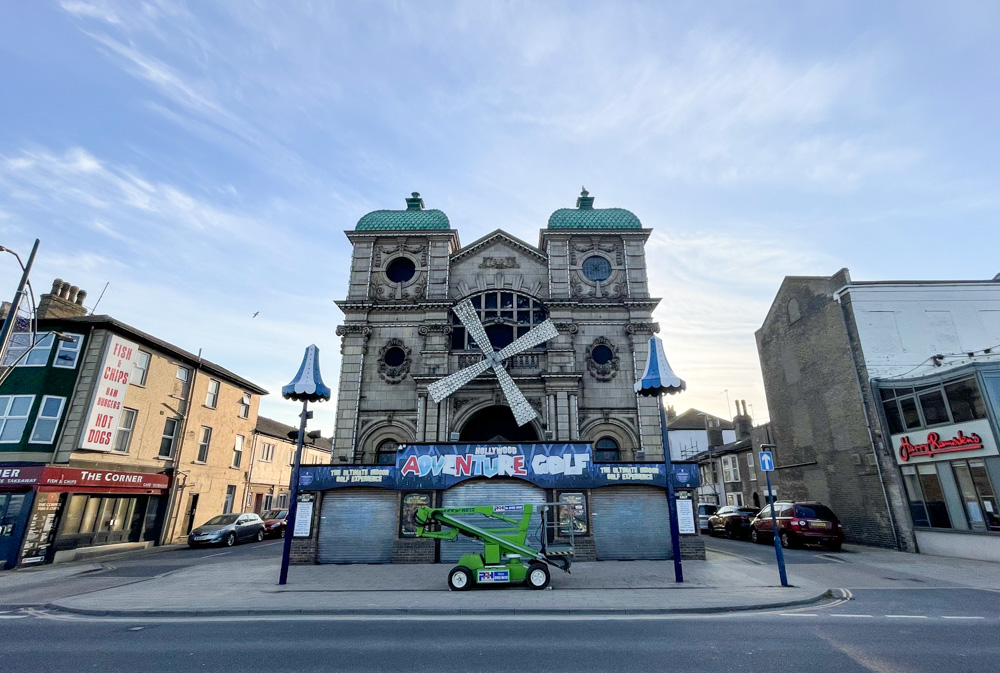 The historic attractions of Great Yarmouth's waterfront
You are probably wondering by now what is left of Great Yarmouth's lavish past, behind the bright lights of the waterfront arcades. Looking carefully, you can find well-preserved historic buildings almost everywhere, even behind the brightest neon signs.
But don't imagine Great Yarmouth using the same Victorian charm as Brighton or Blackpool to attract tourists. In fact, Great Yarmouth is a totally people's tourist spot. You have to know where to see and how to find historic buildings.
Today tourism there are no longer many posh hotels, restaurants or theaters. It has been replaced by family-friendly attractions and shimmering arcades that gave to Great Yarmouth the reputation of Las Vegas of East Anglia.
Britannia Pier
The best know Great Yarmouth's building is Britannia Pier, with its silhouette outstretched towards the sea. In fact, when you think of Great Yarmouth the first images in your mind is Britannia Pier, in addition to 99 cent ice cream and fish & chips on the beach.
However, Britannia Pier history has been decidedly troubled. Initially opened in 1853, Britannia Pier was cut in two by a ship pushed by a storm, exactly one year after it opened. The most incredible part of this story is that the same incident repeated itself again in 1868.
As if that weren't enough, the pavilion built on the pier in 1901 was burned down and rebuilt over 5 times over the next 57 years. Apparently, the current pavilion inaugurated in 1958 seems to have less bad luck and fearlessly is resististing over the years.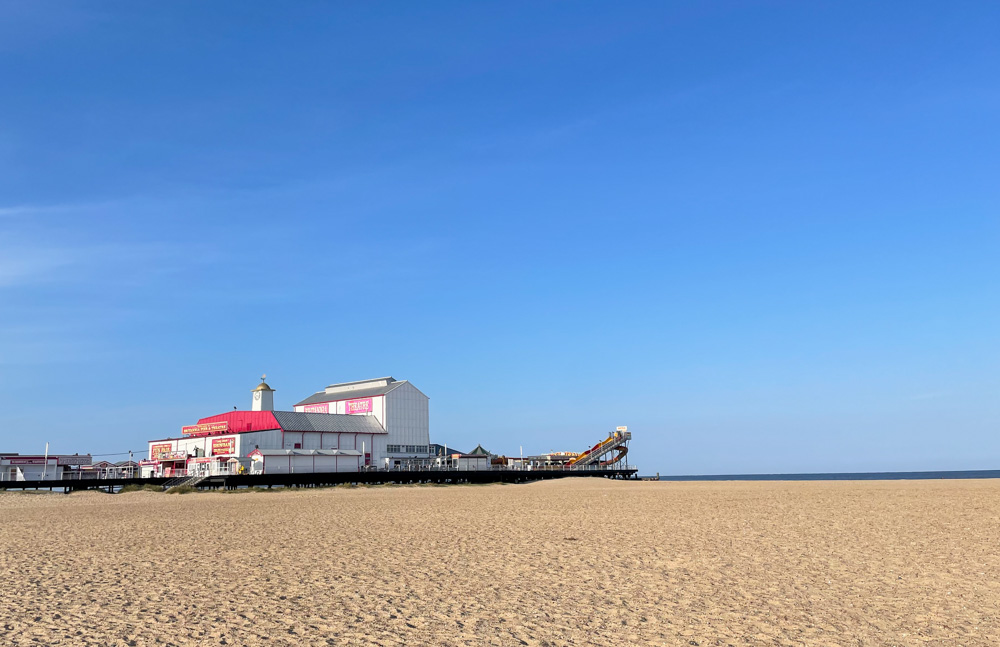 Hippodrome Circus
Hippodrome Circus was built in 1903 for showman George Gilbert and is the only surviving building in Britain to host a permanent circus. It once overlooked the Marine Parade waterfront, but today it is no longer immediately visible from the beach.
Although the building has been receded from waterfront, the beauty of Hippodrome Circus facade does not go unnoticed. It was designed in the Art Nouveau style by Ralph Scott Cockrill, one of the architects who shaped Great Yarmouth's urban planning. Its decorations are terracotta sculptures depicting partridges on a pear tree, peacocks with open tails and owls with spread wings.
The unique feature of Great Yarmouth's Hippodrome Circus is the stage that sinks to become a swimming pool for water shows. This mechanical element is found in very few other permanent circuses in the world and was restored in 1981 by owner Peter Jay. One more reason to see a live show at the Hippodrome!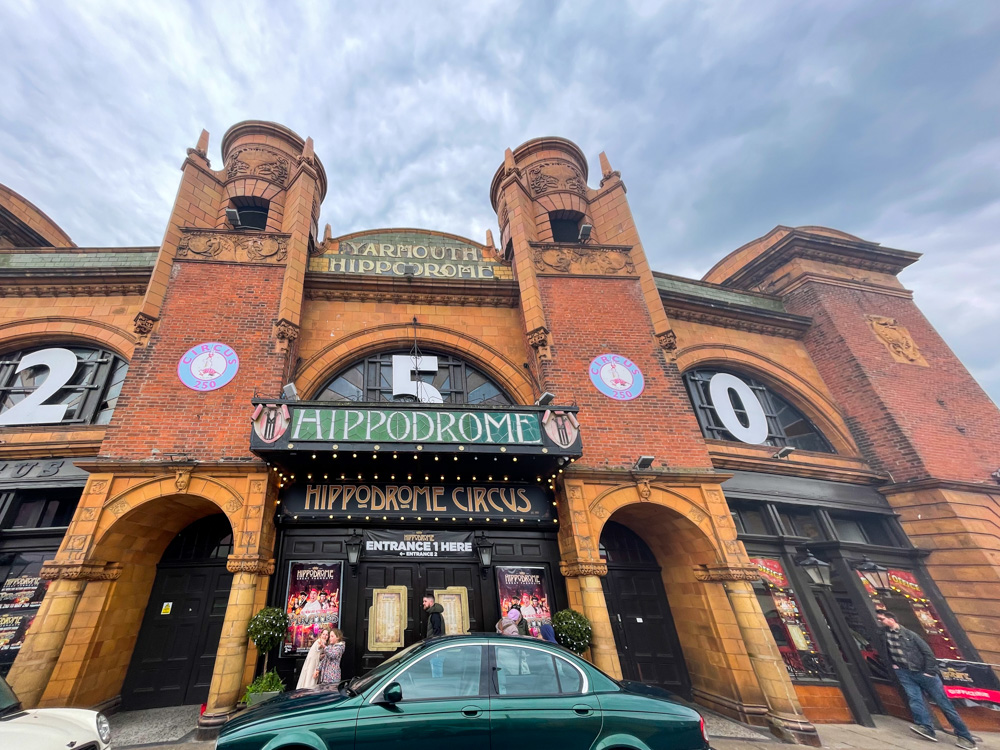 The lost attractions of Great Yarmouth waterfront
However, not all of Great Yarmouth's waterfront attractions have survived to the transformation of the city through the years, as Britannia Pier and Hippodrome Circus. Some have simply gone by, while others have been demolished after people had lost interest, such as Great Yarmouth Lido.
Revolving Tower
Revolving Tower was a panoramic elevator built in 1897 and was able to rotate on itself. It offered a view of the coast and the city, thanks to a cage that rose up to 140 feet. After the WWI, the revolving mechanism stopped working and the tower was converted into an observation tower. Indeed, the tower was finally demolished in 1941 to provide metal for the WWII war effort.
Chapelle's Ring
The Chapelle's Ring, named after its owner James Chapelle, was a circular stage enclosed by a wooden fence and decorated with plants and gas lamps. People paid to enter the Ring and listen to the acting of Great Yamouth actors. This attraction was so popular that there were also people listening from outside to save money!
Marina Theatre
Marina Theatre was an elliptical auditorium situated between Britannia Pier and Wellington Pier. Inaugurated in 1937, ot was capable of hosting up to 3,000 people. In its heyday it hosted many seasonal shows, competitions and celebrities.
Like other Great Yarmouth attractions, the history of Marina Theatre is full of ups and downs. During the WWII it was requisitioned by the army, like many of the largest seaside properties.
Despite this stop, towards the end of the 1950s, Marina Theatre became the main attraction of Great Yarmouth, when the city reached the peak of popularity as a seaside resort. However, in 1968 the facility had ceased to be profitable and was closed.
Great Yarmouth Lido
One of Great Yarmouth's great attractions was the Lido, an outdoor swimming pool filled with unheated salt water opened in 1922. The inauguration day, despite the rain, 2,000 spectators attended speed swimming and lifesaving competitions.
The Lido pool was so popular that it was refurbished in 1961 and was also used for children's swimming lessons. However, since it was outdoors and with unheated water, in the following years was used less and less on cold and windy days. The pool was eventually demolished in 1979 to make room to Marina Center, a tropical lagoon with warm waves and many sport courts.
Anyway, the first Marina Center has been demolished and now the inauguration of a new Marina Center is expected shortly. During my visit in 2022 there was still a lot of construction going on on the waterfront. Write me in the comments if you have any news, so I can update this article during my next trip.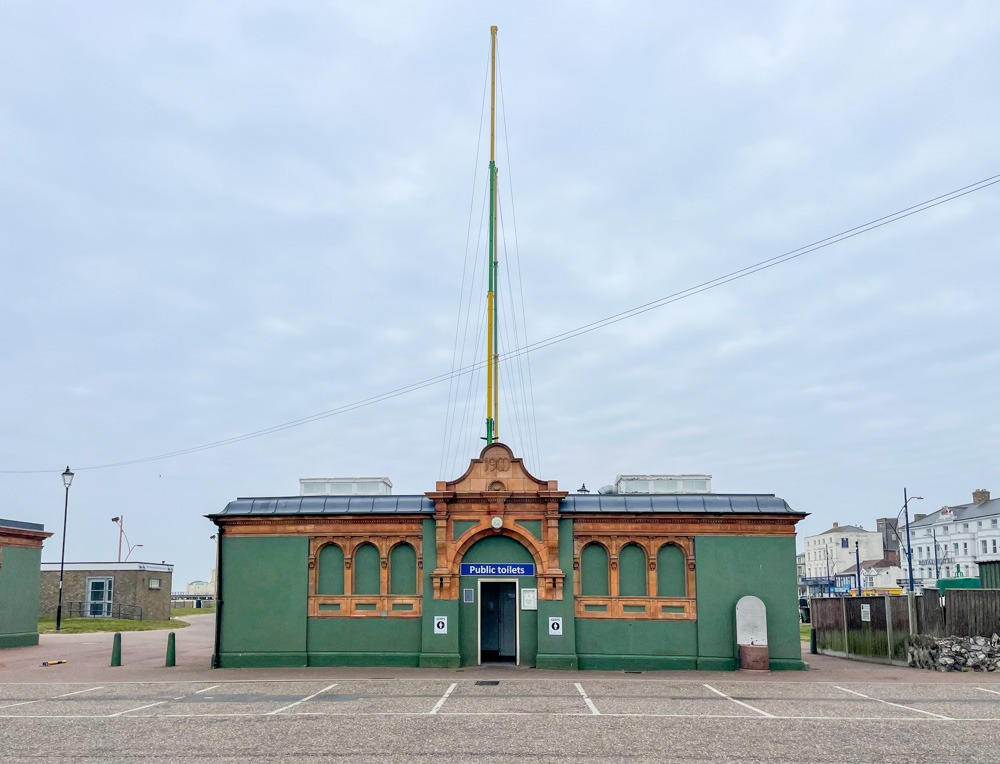 Why you should look in Great Yarmouth waterfront
In my opinion the charm of Great Yarmouth lies in its contrast between old and new, the old Victorian glories and the arcade neon lights. Great Yarmouth can be both the shining Las Vegas of East Anglia and the old wooden Hippodrome theatre.
That's my two cent. Leave a comment about your Great Yarmouth experience!
Best hotel deals
Search on Booking.com for the best hotel deals in Great Yarmouth.