for my first trip to Norfolk with my son, I chose to visit Norwich and Great Yarmouth. Both are easily accessible by train, with many attractions for children.
Why visiting Norfolk with children
Norfolk is really a family-friendly location, with many gardens, parks, beaches, nature and attractions for kids of any age. In Norfolk you can relax on a beach while your children are playing. Or you can visit a lot of interesting buildings, from churches to museums. Norfolk is a suitable destination for everyone, but I really recommend it for families as it's less overcrowed than other similar destinations.
Our itinerary between Norwich and Great Yarmouth
The travel itinerary I followed with my son touched the cities of Norwich and Great Yarmouth. They are respectively the capital city of Norfolk and a town on the coast with a long sandy beach and family attractions.
Day 1 – Coming to Great Yarmouth
The first day of our adventure was dedicated to the journey to reach Great Yarmouth. If you're already in England maybe you won't need a whole day from another Country and an international flight to come here. Anyway our long journey was amply rewarded by the beauty of the destination.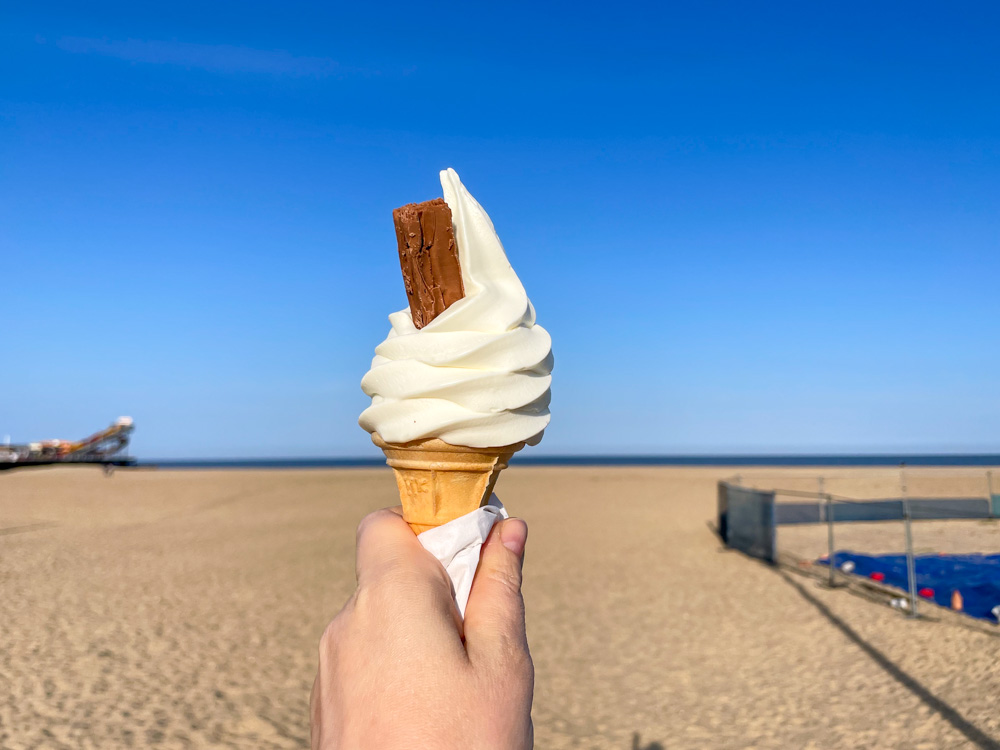 In Great Yarmouth, I book at The Weatherdene, a lovely B&B, perfect for families. Our room was spotless with a delicious corner full of English biscuits, coffee and tea. Located in a quaint English terraced house, The Weatherdene is a five minute walk from the beach and fifteen minutes from the station.
Day 2 – Miniature village and live show
We dedicated the second day entirely to Great Yarmouth, with clear ideas about what to visit:
To start our second day of holiday, we woke up early to explore the old town and the Victorian arcades. Unfortunately the shops are closed in the early morning. Anyway, we headed to the Merrivale Model Village. This cute miniature village was a pleasant surprise and offers the option to return for free over the next 7 days.
The main reason we stayed in Great Yarmouth, however, was Hippodrome Circus, the historical stable circus of Great Yarmouth which offers entertaining shows for families. You can expect amazing shows between theater and circus acrobatics. It is housed in a very special historic building, one of the last two of its kind left standing in England. In the evening, Great Yarmouth's waterfront becomes a sparkling miniature Las Vegas, with lights and arcades at every step.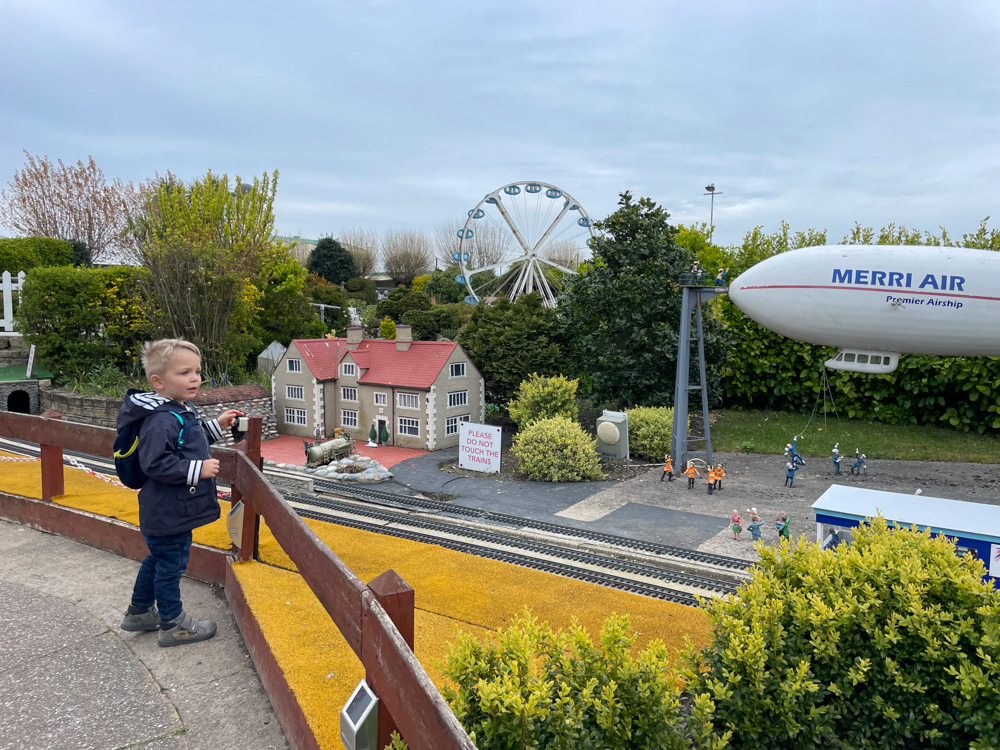 Day 3 – Aquarium and Norwich
On the third day we left Great Yarmouth for Norwich, but not before visiting his aquarium, SEA Life Great Yarmouth. The aquarium is located on the seafront and it's quite smaller than other SEA Life aquariums around the world. It hosts many marine animals, including fancy fish with legs, seahorses and penguins.
If you travel with kids probably your children will love SEA Life's area where you can look at the fish from the portholes of a submarine. My son spent almost all our visit there! After visiting the aquarium we stopped again in Great Yarmouth for the last fish & chips, before returning to The Weatherdene B&B to collect our bags.
Then we went to the train station, headed to Norwich. Direct trains to Norwich leave Great Yarmouth every hour and the journey takes around half an hour. With the whole afternoon ahead of us, we had enough time to start exploring the city. Our hotel in Norwich, the Premier Inn Norwich Nelson City Center is just across the river, nearby the city centre, so we immediately dropped off our bags and began our exploration.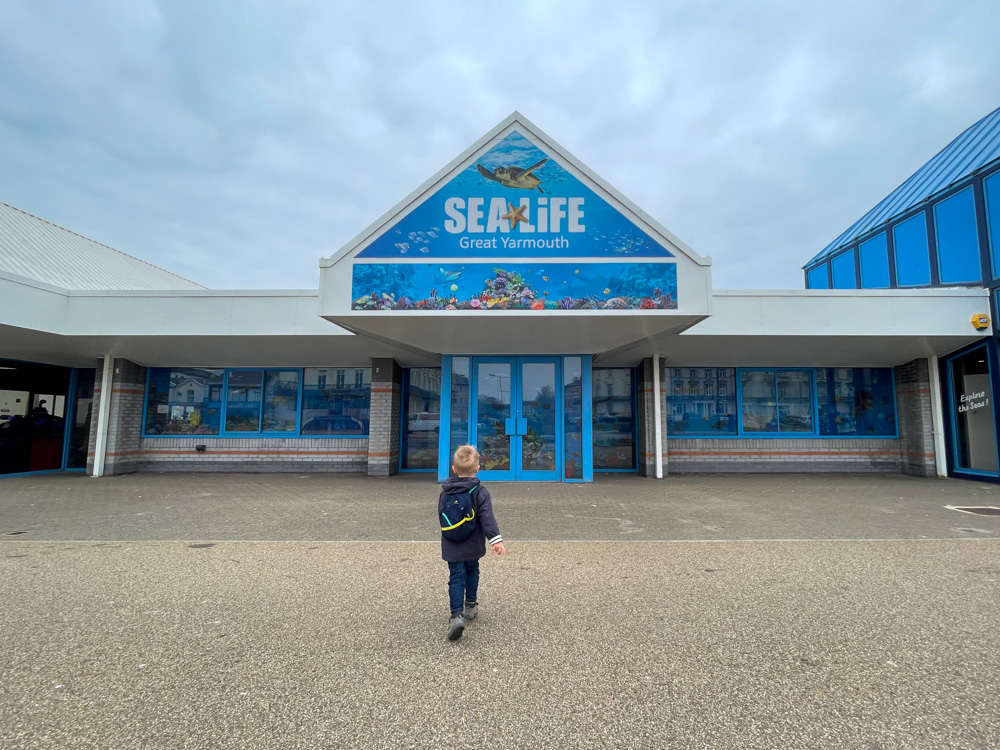 Day 4 – Norwich
In the capital city of Norfolk there is a lot to see and many attractions you can discover, just walking around the historical area. If you need some ideas about what to see first, read my article about Norwich in one day.
During this trip, the Norwich Castle was undergoing renovation so I decided to postpone the visit until the end of refurbished, since I had already seen it a few years ago. Next stop, the Cathedral is very beautiful and surrounded by a huge park, while the church of St Peter Mancroft is famous for its bell tower.
You can end your day strolling through Elm Hill, one of the oldest streets in England, then eating dinner in Riverside, the new riverside neighborhood. Here you will find many restaurants and pubs overlooking the river Wensum.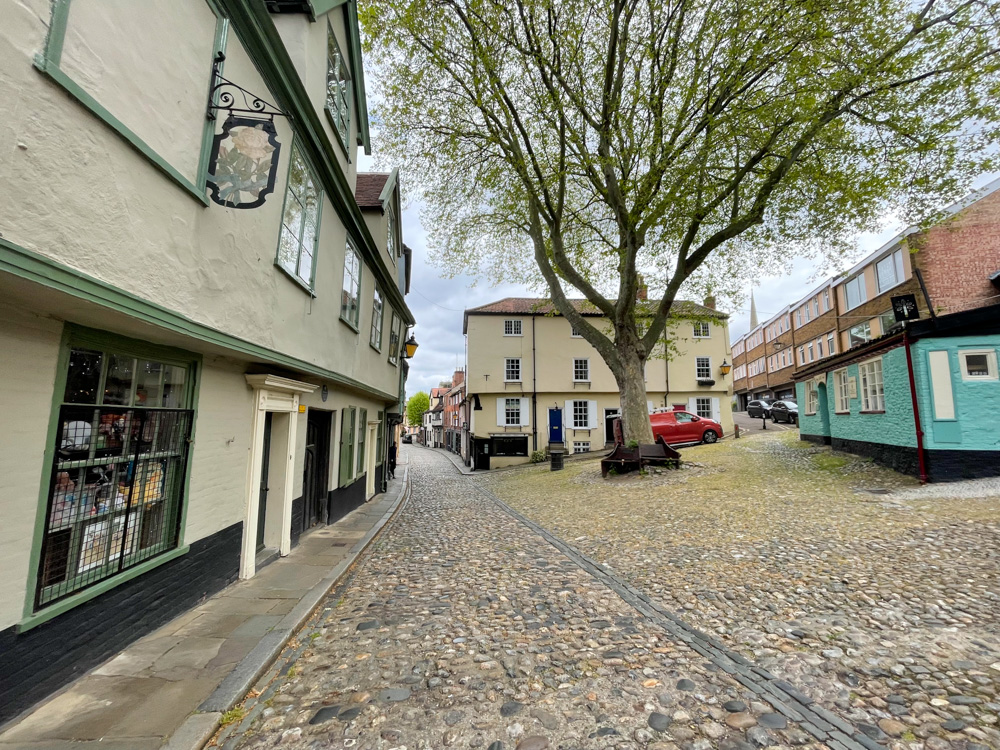 Day 5 – Back to home
The fifth day of holiday was our return trip. As for the outward journey, I took a Greater Anglia direct train from Norwich to London Stansted Airport, then a return flight to Italy. If you live in England you can add more time to Norwich to this itinerary. Anyway we had enough time to visit the main attractions so 5 days from abroad are a good taste of East Anglia.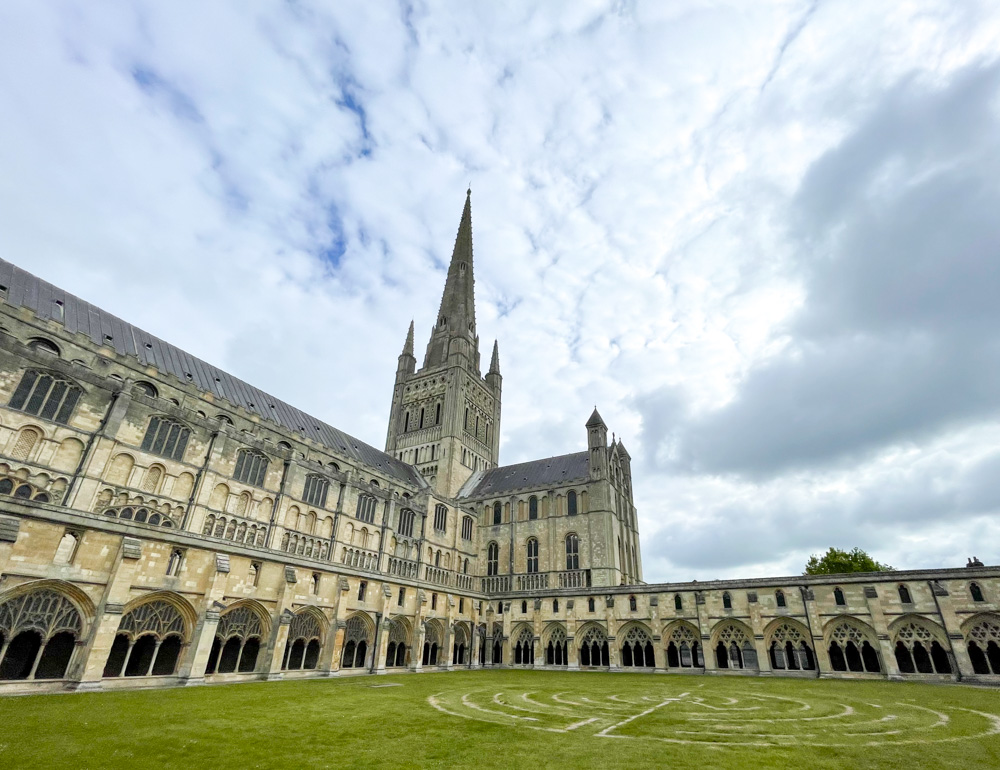 How to build a travel itinerary in East Anglia by train with children
When I created our itinerary I selected miniature villages, beach walks, parks, theatrical performances and food tastings. But this is only a fraction of what you can do in Norfolk with children. I would have added even more attractions if I had had more time.
Having a few days we chose to travel by train because there is a very convenient direct Greater Anglia train from London Stansted Airport to Norwich and another direct train from Norwich to Great Yarmouth. Travelling by train above all means less stress and a lot more fun, also because my son, like almost all preschool children, loves trains.
The only thing to consider when traveling only by public transport is that some attractions outside the city are inconvenient to visit, unless you take two or more buses. For this reason I had to rule out some attractions for which I would have to change more than one means of transport.
You can read about them in my articles about where to go in East Anglia between Norfolk and Suffolk and 5 places to visit in East Anglia. Save your favorite spots for when you'll come back by car. In fact, the adventure parks and historic railways themselves are much easier to reach by car than by public transport.
In this trip I therefore chose not to take away space from the city attractions, since for us this was only the first of a series of trips together mother and child to England.
Hotel or B&B: where to sleep in England on a family trip
In England B & Bs can range from gorgeous to terrifying, especially for my European taste. To be honest, they've gotten a lot better in recent years, but you can still stumble upon B & Bs in beautiful Victorian townhouses that hide swamp-effect carpeted bathrooms. This premise is just to explain why I felt so very lucky to stay at The Weatherdene, a real hidden gem in Great Yarmouth.
Alternatively, it is always a good choice to stay in a Premier Inn hotel when you travel with your family. This English chain offers spacious rooms up to three beds, one double bed and a sofa that converts into a third bed if you travel with a child. The price of a room in a Premier Inn is the same whether the occupants are one or two. Furthermore, children do not pay for breakfast. The only flaw, you have to book directly from their website and not from Booking so you can't keep all your reservations in one place.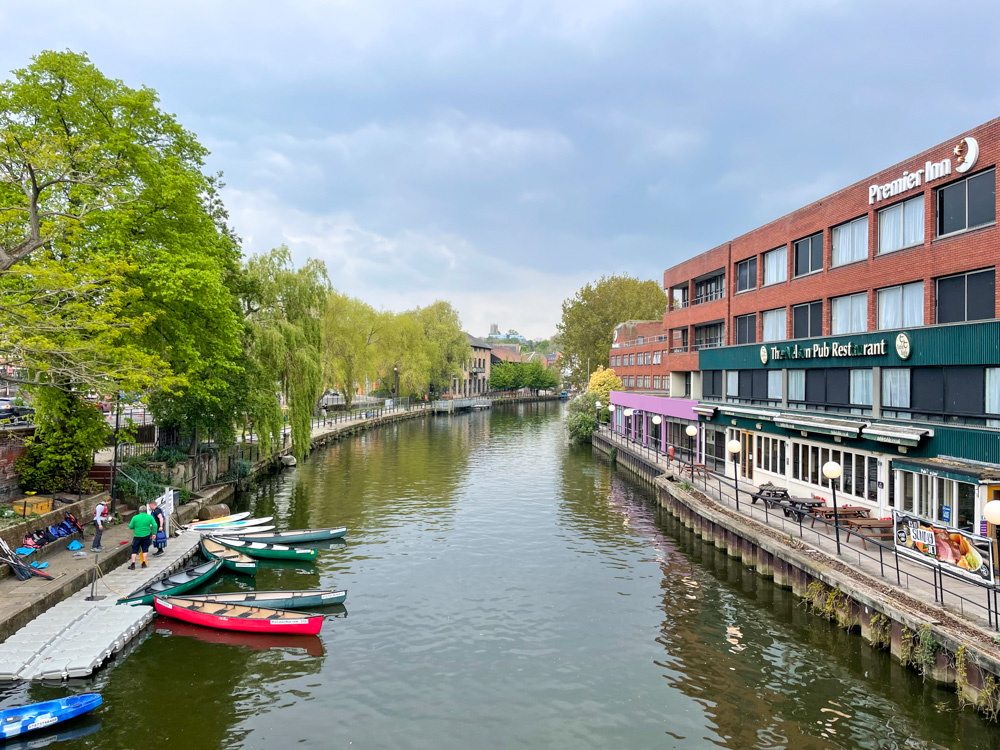 How to get around by public transport in Norfolk
Getting around Norfolk by public transport, train and bus is quite simple. Regular buses run throughout the county from Norwich. To reach the coast there are the First Bus Coastlink buses or the Border Bus 146, the best option if you want to visit smaller towns.
To get to the most important towns on the coast, however, the train is probably more convenient. Greater Anglia trains depart and arrive in the city center, they are spacious and clean. Tickets cost a few pounds and you can buy them directly online from the Greater Anglia app.
Or you can buy train tickets from Omio, so if you plan a train trip in other counties as well, you can keep all your travel tickets together. In fact, if you're reading me from abroad, you have to know that in England there is no monopoly on railways and different areas have different railway companies.
Here you can start planning your trip with Omio, my favourite tools to buy train tickets.
I hope you'll have a great holiday in East Anglia by train. Norwich and Great Yarmouth are really a thing!