On the Norfolk coast, more precisely on the Great Yarmouth seafront, you can visit the curious Merrivale Model Village. It is one of the most popular family attractions in the area. It includes many miniature houses, castles and cathedrals located in a large garden crossed by a stream.
What is Merrivale, the miniature village of Great Yarmouth
Unlike the other miniature attractions you can find in Europe, Great Yarmouth's Merrivale Model Village does not represent specific locations. Instead, it incorporates several recurring topic of the British countryside. Basically Merrivale is an idealy village full of greenery, overlooks a river and a lake.
Buildings vary from typically Victorian constructions, half-timbered houses, high street shopping streets, railways, castles and cathedrals. And obviously lots of tracks and railways.
Having no purpose other than pure entertainment, Merrivale Model Village was born in 1961 out of the Dobbins family's passion for miniature villages. In fact, Merrivale is the only second of their three model villages. The first was Land of the Little People in Southport which opened in 1956, while the third is the very famous Babbacombe miniature village in Torquay, opened in 1963 and still run by the Dobbins family.
The village of Great Yarmouth was managed by its creators until the early 1980s and then passed through several owners. After a period of decline, Merrivale Model Village was completely refurbished in 2004. Today it is once again one of Great Yarmouth's most popular family waterfront tourist attractions.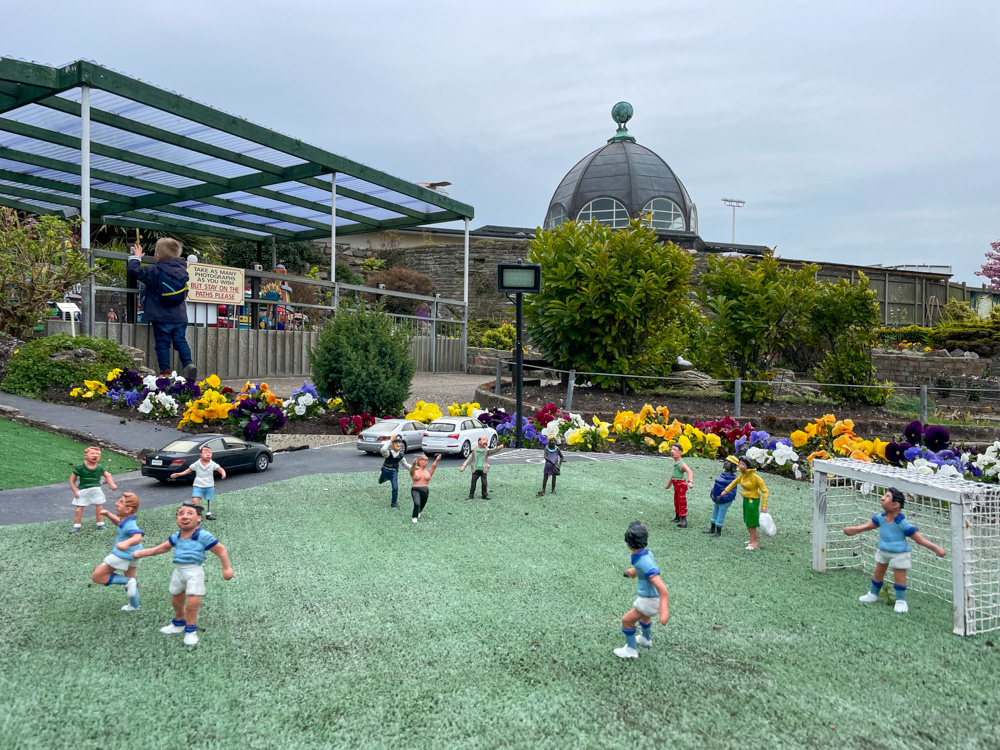 What to see at Merrivale Model Village in Great Yarmouth
Merrivale is a typical English country village and has an area of ​​just over four thousand square meters. During your visit you can see the city center with an inn, a farm, a traveling fair, a stadium, a zoo, a holiday village, the country club, a castle, cottages and the ferry wheel Merrivale Eye that is able to ride in any weather condition.
Most of the scenes come to life by pressing big buttons at child's height. Each set-up is different so that means of transport can be activated or the interiors of the factories come to life. One of the funniest scenes is probably that of the car getting stuck in the automatic garage door.
All miniature buildings are set in a beautiful, well-kept garden. The best part of the Merrivale Model Village are the model trains that pop out of tunnels and go around the village. Side by side to super realistic carriage and locomotives you can spot some Thomas trains from the cartoon.
However, the surreal aspect of Merrivale does not end there. If you are British probably you will find everything pretty normal, but as a foreigner I was able to enjoy the odd British sense of humor at its best. For example, you can spot a fan of the football team who enters the field topless or a policeman who arrests a thief during a concert.
The names of the businesses and brands are also misrepresentations of the original names. I think due to copyright issues, but it is also pretty fun. Last but not least, before leaving the Model Village, you will cross the Merrivalia Mythical Fantasy Land, an area entirely populated by metal dragon sculptures.
Merrivale Model Village's side attractions
The Model Village include also some minor attractions, like the mini golf course and The Crown Jewels set-up, with the crown jewels and a miniature model of Buckingham Palace, both at the entrance of the garden. After the Village, on the other hand, you will pass through Williamson's Old Penny Arcade, a vintage version of a tourist pier. The Merrivale pier is fitted with vintage arcade video games, slot machines and penny souvenir machines.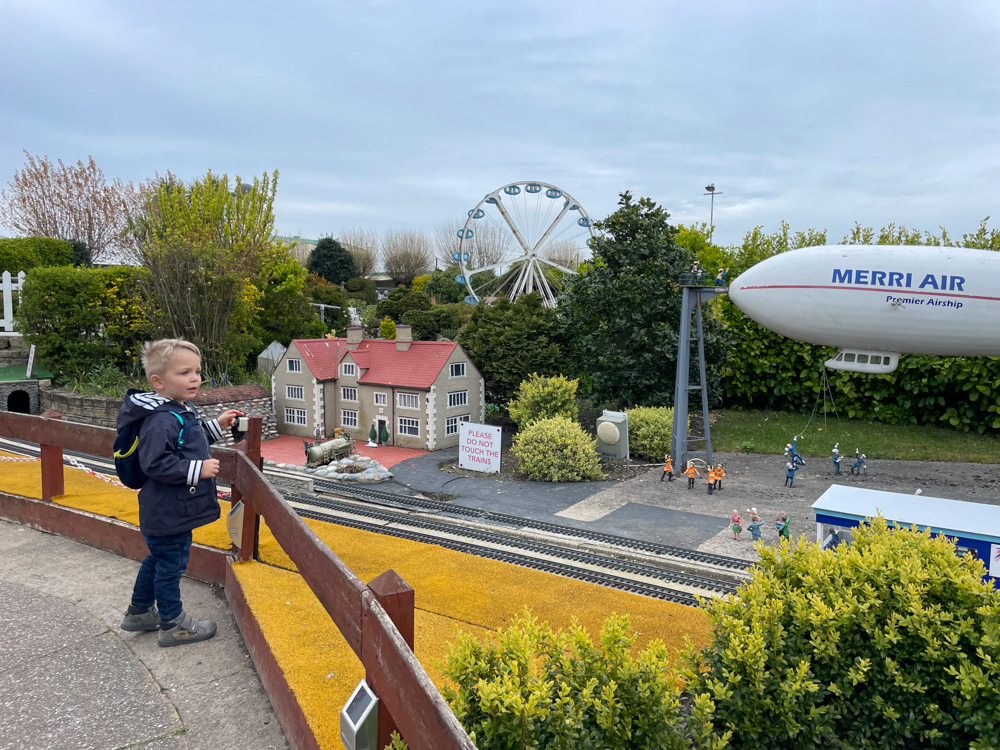 Why visit Merrivale Model Village with children
Compared to the other shining attractions of Great Yarmouth's waterfront, Merrivale Model Village is more vintage and quiet. However, that is the reason why it is worth spending an afternoon there. It is really a calm oasis to explore with children.
Kids love to push buttons and wait to see the settings come to life. Merrivale Model Village is also fully accessible, so no worries if you come with a stroller or a pram. Plus, the admission ticket consents to return to Merrivale Model Village as many times as you want in the following 7 days, so it is really a great deal for families.
? Merrivale Model Village
Marine Parade
Great Yarmouth NR30 3JG
Let me know if you have already visited Merrivale Model Village in Great Yarmouth and what you loved most.
Best hotel deals
Search on Booking.com for the best hotel deals in Great Yarmouth.